At the end of December, news outlets were awash with reports of an explosion which partially destroyed a crabbing vessel off the coast of Norfolk.
Unfortunately a total of seven crew members were injured as their boat was blown out of the water as it was hauling in a string of crab pots. Three crew members sustained 'life changing' injuries and were airlifted to hospital in Hull. Cromer lifeboat collected the four remaining crew from a life raft.
"At about 11:20am, the crew was in the process of hauling in a string of crab pots; the skipper was in the wheelhouse with other crew members below decks working the pots," the Marine Accident Investigation Branch (MAIB) said in a preliminary statement.
"The hauler was being used to heave in the back rope, and the crew had let the skipper know that there was a lot of tension on the line, when there was an unexpected explosion. Galwad-Y-Mor (the vessel) was thrown up from the sea surface, then landed heavily back down; all propulsion and electrical power was immediately lost. The skipper was injured and dazed, but conscious, and saw that the wheelhouse had been completely wrecked."
The vessel was towed into port at Grimsby where it was inspected further. The blast had left the vessel damaged and taking on water – the interior of the wheelhouse was substantially destroyed. On inspection, it is reported that the shell plating on the bottom showed extensive damage, but that there was no evidence of an internal blast.
MAIB stated that "The source of the explosion has not been determined, but it was possible that old munitions on the seabed were disturbed as the vessel hauled in its pots".
At this time, a full investigation is ongoing. MAIB said it has notified the Maritime and Coastguard Agency, the Receiver of the Wreck and the Ministry of Defence.
Why does Unexploded Ordnance (UXO) still pose a risk in UK waters?
UXO in offshore areas of the UK can originate from three principal sources:
Munitions resulting from wartime activities including ship-to-ship engagements, aerial bombing, long range shelling and defensive activities/mining in both WWI and WWII.
Munitions fired/deployed as a result of military training and exercises.
Munitions lost or discarded either deliberately, accidentally, or ineffectively.
During WWI and WWII, significant quantities of explosive ordnance was either dropped from the air or placed on and around the beaches of the UK, including both bombs and mines.
There is also a legacy of military activity which has led to contamination off the UK coast – including offshore munitions disposal, minefields firing ranges, training exercises, military related wrecks, torpedoes and depth charges.
UXO which was deployed during such military activities, but failed to initiate, may have been disposed of at sea and can still pose a significant risk.
Several reports regarding the Norfolk incident suggested that the fishermen may have disturbed a sea mine that was sitting on the sea bed.
We have examined WWII-era mine maps for the area, and it's appears that mines were deployed during the war in the general area of the incident – and it will be interesting to see the final results of the investigation.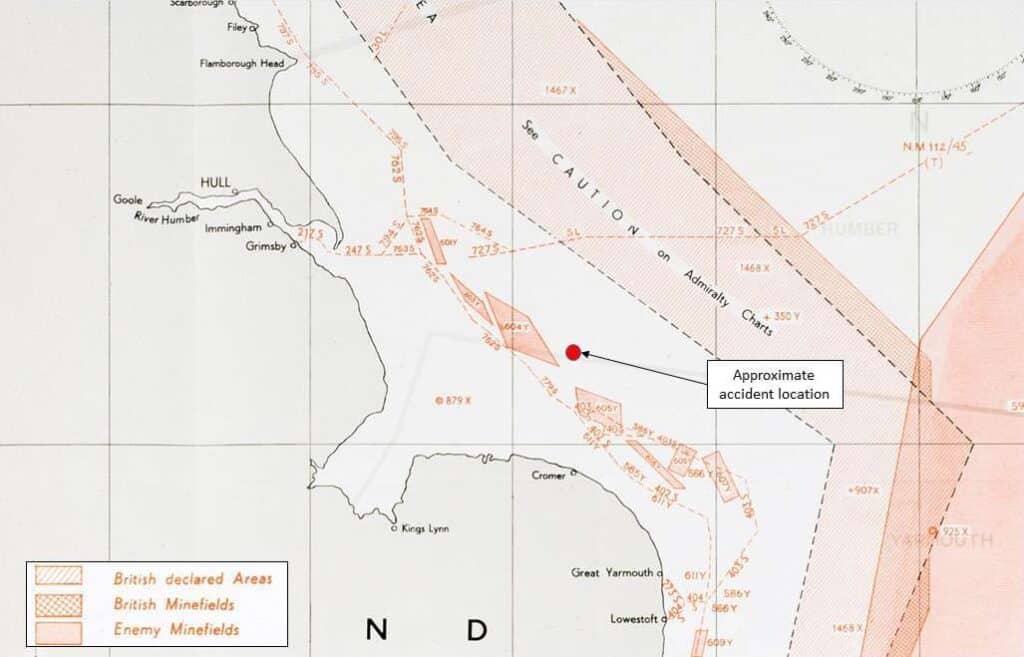 Example of a Sea Mine map highlighting the location where the incident occurred off the Norfolk coast
What is a Sea Mine?
Sea mines are self-contained explosive devices placed in water to destroy ships, submarines and other watercraft. These weapons are generally laid and left until they are triggered by the approach, or contact with a vessel.
Naval mines can be used offensively, to hamper enemy shipping and restrict it to a harbour, or defensively, to protect friendly shipping and create 'safe zones'.
During WWI, it is estimated that up to around 128,000 mines were laid in the sea around the coast of the UK, both offensively by the German Navy and defensively by the British Navy.
This included minefields actively laid by German aircraft, destroyers and minelayers off British harbours. Both navies continued to deploy defensive and offensive defensive fields during WWII, with approximately 100,000 mines laid in the North Sea and Thames Estuary alone.
Although attempts were made to remove, or make safe, sea mines deployed during WWII around the coastlines of Europe, it is estimated by some sources that up to 70% of sea mines were not recovered.
Mines are most frequently classified by their position in the water, delivery method and method of activation. A mine's position in the water can include bottom mines which rest on the ground, moored mines used for deeper-water areas and drifting mines, which float freely.
Delivery methods include aircraft-laid mines, surface-laid mines and submarine-laid mines, and the method of activation can be divided into two categories.
Contact mines are designed to explode on contact with the hull of a ship whereas influence mines are triggered by the vicinity of a ship or submarine, rather than by direct physical contact.
Theoretically, a sea mine could still pose a very significant risk of explosion. Mines used in more recent wars are often set to deactivate, with clocks that can either interrupt the firing circuit or detonate the mine, but older models have no such 'off' switch.
If you need Marine & Offshore UXO Services we're here to help
1st Line Defence provides Marine & Offshore UXO Services for projects across the UK & Internationally. If you would like more information or general advice, contact one of our friendly Sales Team on + 44 (0) 1992 245020 or email info@1stlinedefence.co.uk.
Image credits: MAIB/East Anglia News Service and the UK Hydrographic Office